MOBILE HEALTH CLINICS ASSOCIATION CELEBRATES SIGNING OF OREGON BILL INCREASING MOBILE CLINIC ACCESS TO PROVIDE CARE TO UNDERSERVED
MHCA Member Mobile Health Clinic Professionals Attended, Benefit from Bill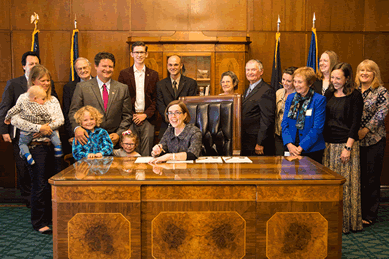 Today's historic signing of HB 3139 by Oregon Gov. Kate Brown is a leap forward for mobile health clinics who provide free and reduced medical and dental care to be able to operate throughout Oregon and reach the underserved. The bill was sponsored by State Rep. Cedric Hayden, a dentist who had difficulty getting his state-certified mobile clinics recognized by several municipalities to provide free dental care.
Mobile Health Clinics Association (www.mobilehca.org), a nonprofit network of mobile health providers in the U.S. and Canada, heartily applauds this bill, which passed with bipartisan support in the House and Senate and was signed into law earlier today.
Elizabeth Wallace, Executive Director of Mobile Health Clinics Association, exclaimed, "Thanks to sponsor Rep. Cedric Hayden and Gov. Kate Brown, our many members in the U.S. and Canada can look to this bill as model legislation on access for mobile health clinics. Our Oregon members were thrilled to join the bill signing."
Christine Flores and Joan Randall from OHSU Casey Eye Institute Outreach Program said, "We are very excited about this bill, and appreciative of Representative Hayden's tireless efforts to enhance the delivery of health care to our most underserved populations."
Matt Stiller, Mobile Dental Program Director for Medical Teams International stated, "Mobile health programs are a critical component for the overall health delivery system in Oregon. This bill supports the mission of all mobile health programs in our State. We are excited to play a role in mobile health advocacy."
####
Mobile Health Clinics Association (MHCA) is the only nonprofit network of mobile health providers across the U.S. and Canada. It is a clearinghouse of best practices on mobile health and produces strategic initiatives that complement advancing access to healthcare on a continuing basis and in times of national emergency disaster